1955 Dage 60A Vacuum Tube Vidicon Camera
---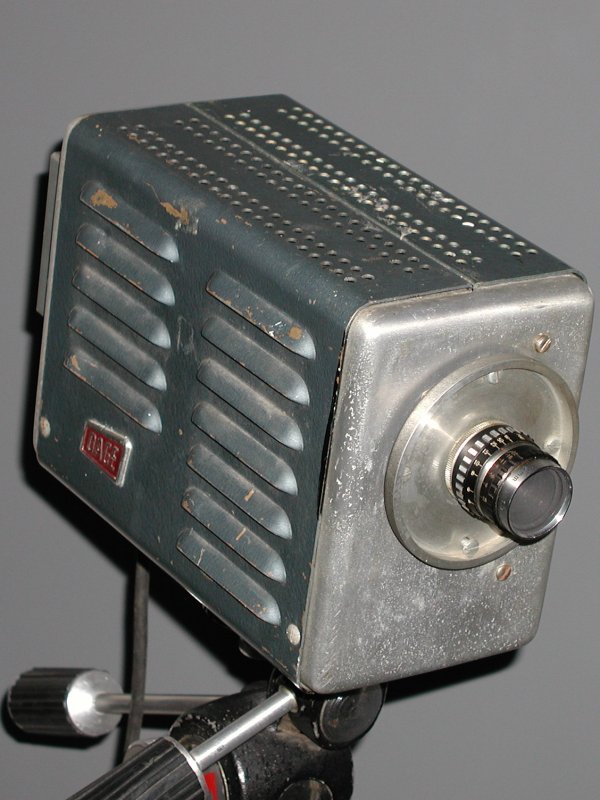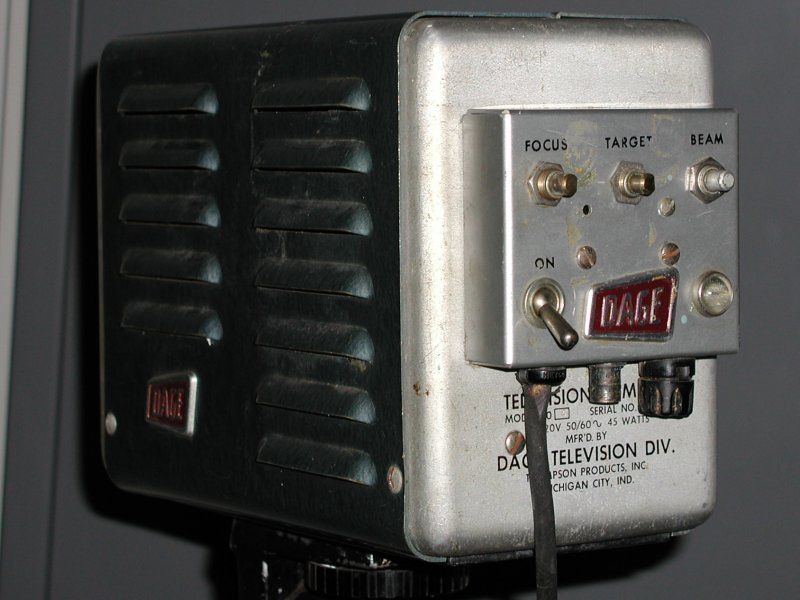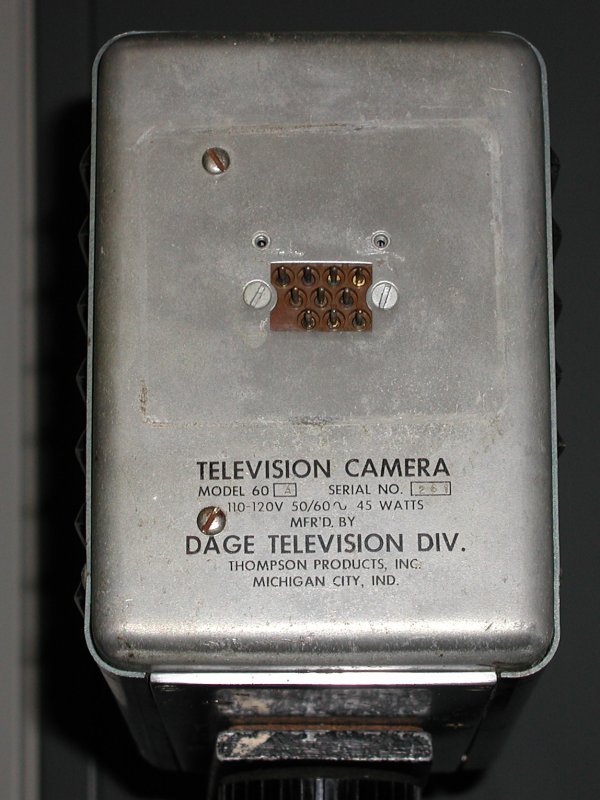 1955 Dage 60A Vacuum Tube Vidicon Camera
.
Here is an example of one of the earliest vidicon cameras to hit the open market. I'm guessing that this camera was made in 1955. This may not be correct, but it is very close. A wonderful example of the "bleeding edge" of technology in the 1950's.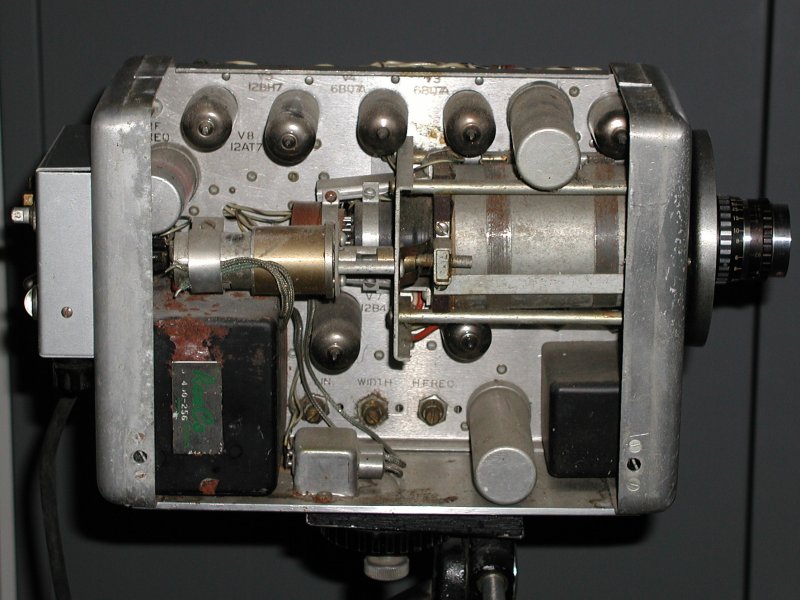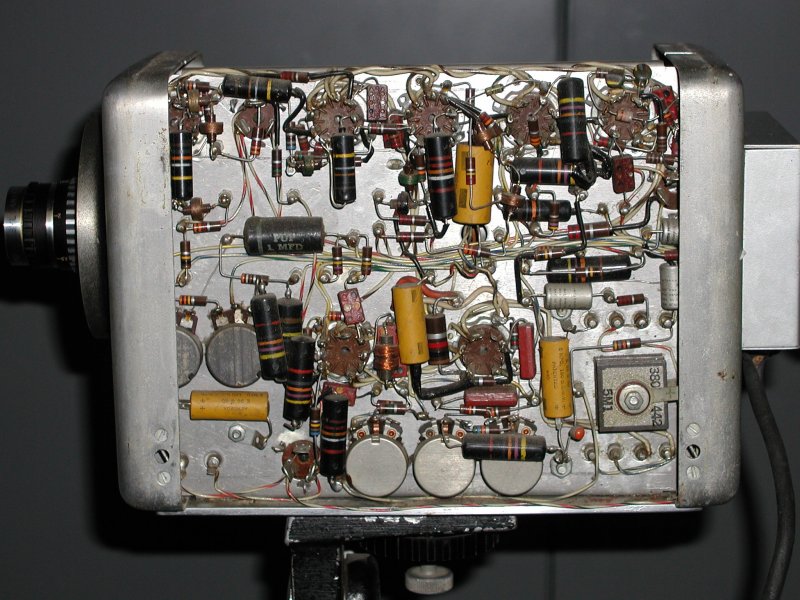 This camera is all vacuum tube in design, incorporating an RCA 6198 [VIDICON TUBE] for image pick. Eight vacuum tubes total counting the vidicon. Complex as it looks, this camera is simpler than most "simple" integrated circuit chips today! Observe the point to point wiring beneath the chassis.
The 6198 was the earliest vidicon tube on the market. The rear panel is removable so that an extension cable could be fitted between it and the camera body. Or possibly this went to a separate controller. When I examined the inside of the camera I discovered that the rack focus screw, for the vidicon deflection yoke, is driven by a small DC motor! I traced its wires back to the connector behind the control panel. This would allow remote focus control when on an extension cable.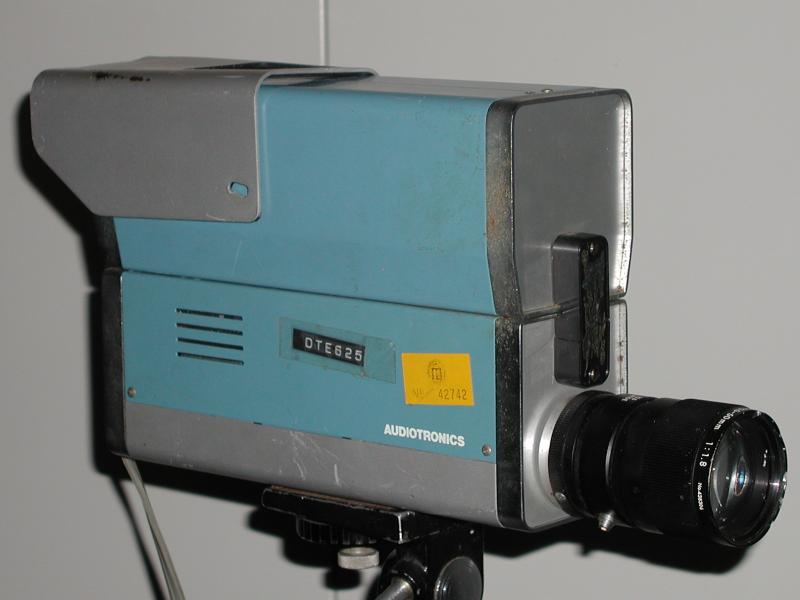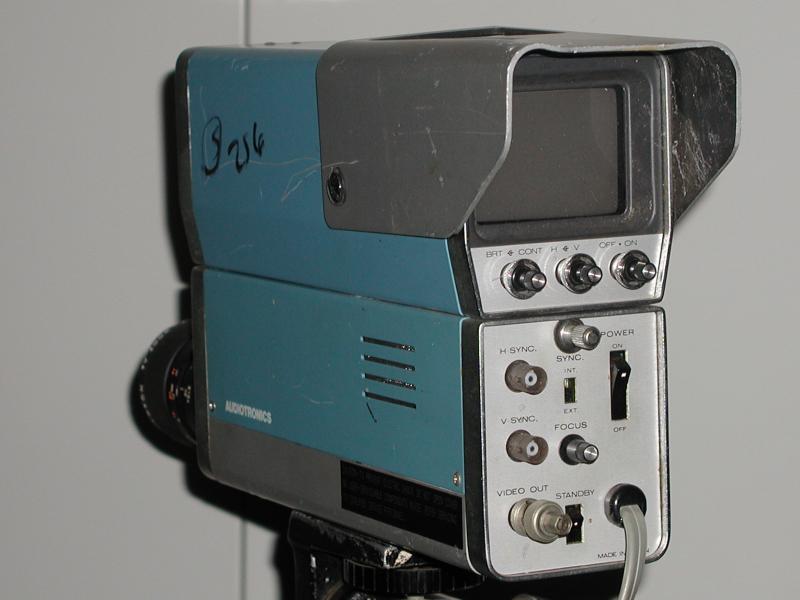 1967 Audiotronics PVC-808 Small Studio Viewfinder Camera

.
Here is a nice video camera from the mid 1970's. This may be the mating camera for my Audiotronics PVR-708 EIAJ VTR. The PVC-808 uses a two thirds inch vidicon tube for image pickup and a small 3" B/W CRT for a viewfinder. The lens is an f 1. 8, 12. 5 mm to 50 mm, 4 to 1, zoom type made by Tamron.
Rear panel electrical controls consist of an On/Off switch, Viewfinder contrast, brightness, vertical hold and horizontal hold. There are separate jacks for horizontal and vertical sync input and video output. A control is provided for vidicon electrical focus. Switches include; power off/on, standby off/on, and internal or external sync select.
This artifact is in fair condition. Audiotronics brand video products are pretty rare. So, if you know something I don't, feel free to email me and share your knowledge.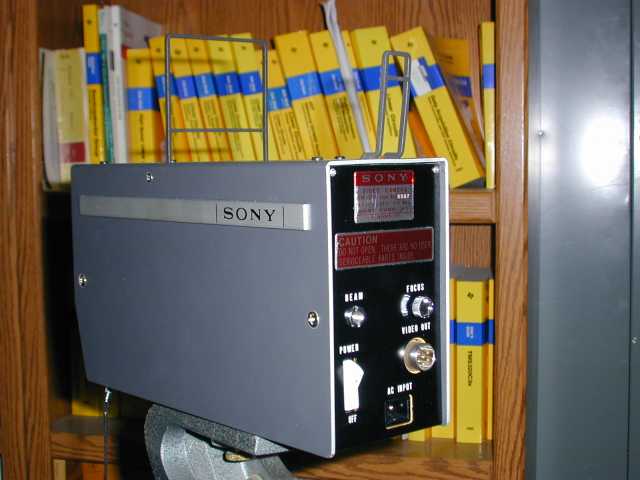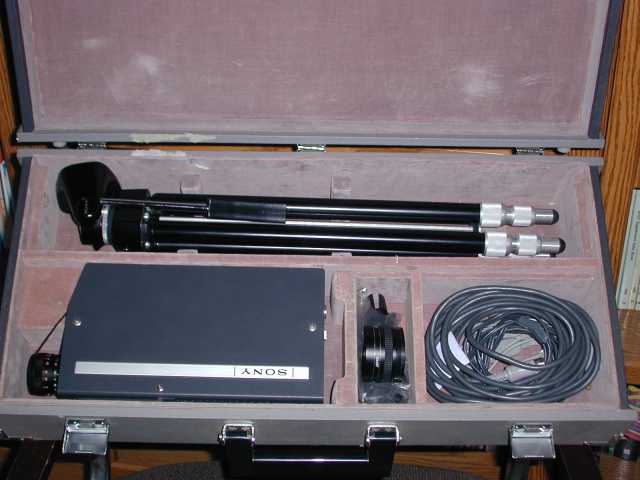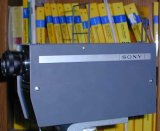 1965 Sony VCK-2000 1" Vidicon Camera Kit for the CV-2000 Series

.
This is a first generation industrial / pro-sumer video camera kit. The kit contains the camera, tripod, microphone and cables all packed in a stylish, easy to carry, brief case. The CVC-2000 uses a 1 inch diameter vidicon tube, has two square loops of wire for a viewfinder (squint-cam) and a 25mm lens. This camera is the mate to the CV-2000 and CV-2100 1/2" skip-field VTR's. This particular unit was manufactured in 1965 and is still fully operational. LabGuy's World has a complete kit with all of the accessories and one partial kit which is lacking the tripod and microphone. Those are the two most commonly "lost" accessories in any camera kit. Tripods and microphones are highly prized by professional pilferers!